Flex Snake! BRING IDEAS COME TRUE
Hi everyone! Any of you know classic snake game. Actually, that was fun 10-15 years ago, but now it became usually so boring.
So I had been created this demo during my job' useless moments, spent for this a bit of time.
Actually, I know how boring snake is it. You agree with me, aren't you? So, in this case, I'm looking for your advice, how would you like it should be, played, look.
Post your ideas below, in the comments, Most popular of them, I will perform in this game.
Actually, it even can be another game in the future with some of classic snake mechanics. Any strange opinion(if you think so) will be cool.
We want to create real HTML5 web product that you gonna play during the lunch, or lazy moment on your desktop, tablet or smartphone, whatever. Thank you so much!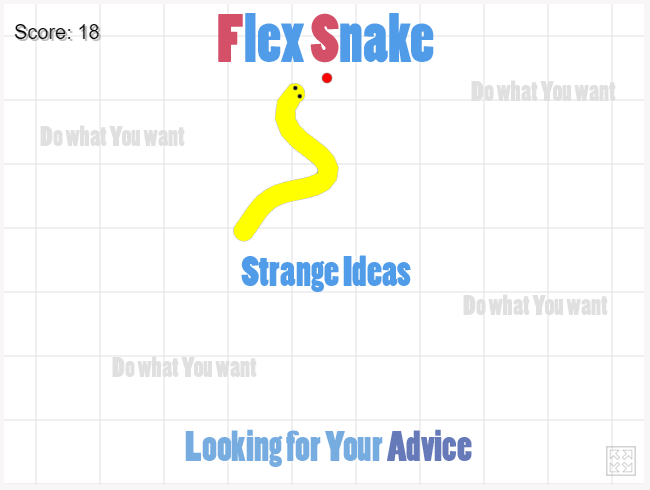 Download
Click download now to get access to the following files:
if you pay $1.50 USD or more
Comments
Log in with itch.io to leave a comment.
Please don't use unrelated game jams as a way to promote your game.
Did you make this for the TRIJAM #26 , if that's the case in the TRIJAM #26 says that needs to be in 8-bit, and needs to be made in 3 hours, but i like it, it remembers me to snake, something i like to see in the game is some kind of enemy or tramp to make the game more interesting, sound effects, and more graphics like a background , good job. (:
Thank you for feedback! Its good idea. I will perform some enemies in future and add some sounds. Also i have i different idea make this game like a tree of versions. Also i have an idea to make some turnbased stuff to play vs friends